Re:Down - Circular By Design
We spoke to Eric Firmann, one of the founders of Re:down who has, in 7 years, totally transformed the conversation around the use of down and feathers from an animal welfare concern to a circularity conversation. In doing so, they've solved the animal welfare issue as well as the sustainable concerns in one fell swoop.
Hello Eric! Thank you for your time. Firstly, can you tell us how Re:down came to be? What was the initial problem you were trying to solve, and how you realised that this was a problem at all?
The idea of Re:down came from conversations with outdoor apparel brands. Back in 2015, most of the brands focused on the animal welfare problem when it came to down insulation. The need for a more responsible sourced material was very strong but nobody was looking at circularity. We saw a double advantage in re-using existing down :
-with no new animal input, we are participating in the animal welfare project
-we deviate tons of post-consumer goods from landfill.
How big is this issue and how has Re:down made an impact with this since in it's 5 years of operation?
5 years later circularity is the center of sustainability policies in textile companies. Everybody feels more responsible for the products after they have been used. Everybody tries to find recycling solutions. And Re:down is an existing, concrete, workable solution for down insulation!
In those few years, we managed to change the vision of the down industry and many brands, from luxury to mass market, use Re:down now.
How easy has it been to have people see the purpose of your mission? 
The advantages of Re:down are pretty obvious and we had no problem to convince our customers of the interest of our mission. It was more difficult to turn it into reality. Supply chains don't like to move! We have been facing skepticism about quality, about capacity, about cleanliness, etc… But we finally managed. We owe a big part of our success to the tenacity of some CSR managers from large companies who supported us and promoted Re:down very well among their colleagues from design and buying offices.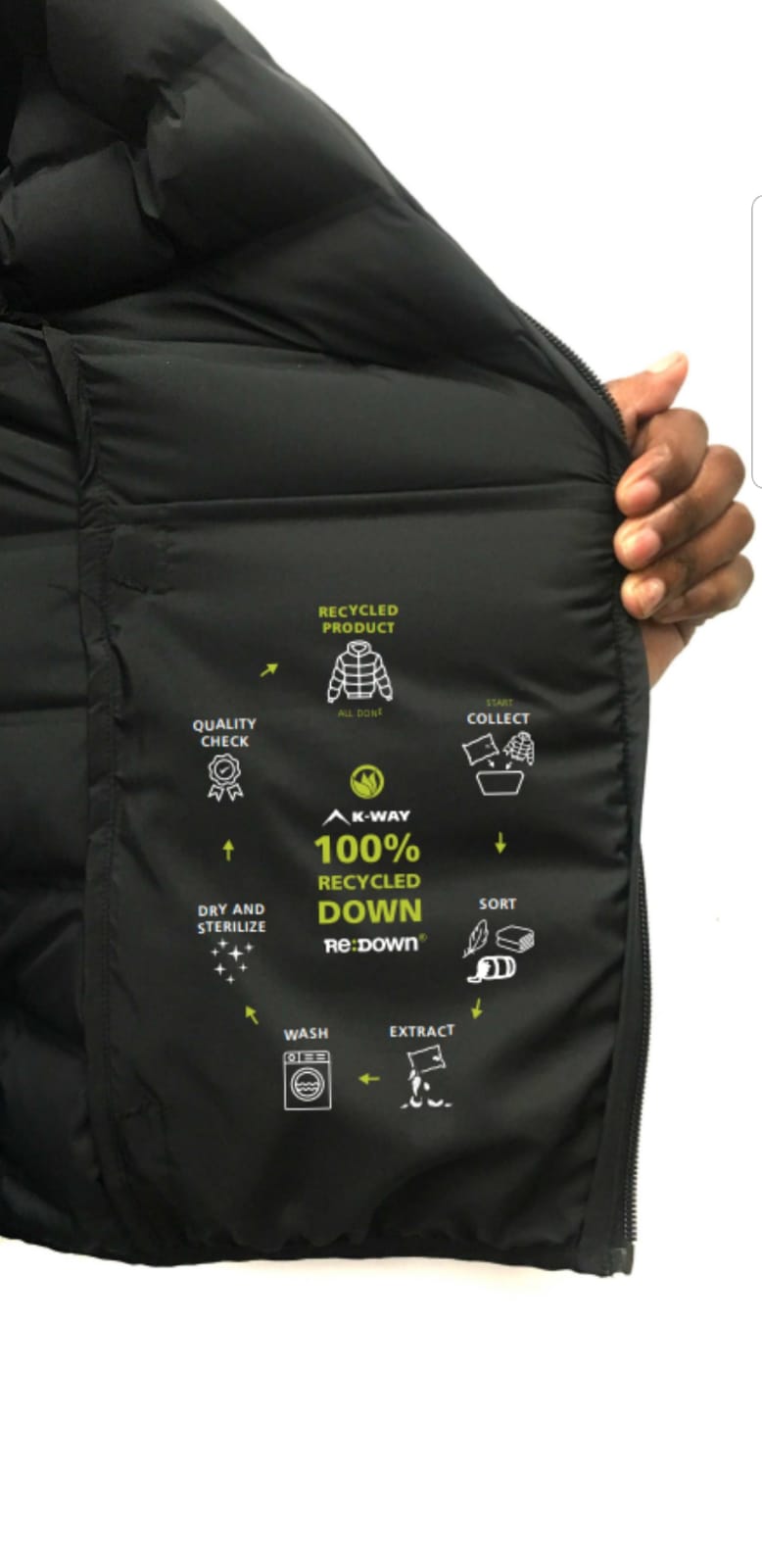 Our first achieved success is to count several global brands among the Re:down friends and this in the high-end market as well as in mass market. Re:down is good for everybody!
But we want to do more. Our ultimate goal is to create real circular projects with our customers. Brands put products filled with Re:down on the market but take them back once they are used and we recycle the down again. We do this already for some pilot projects but our goal is to make it on a real industrial scale.
Another goal is to find always better recycling solutions for our side components. Today, our fabric waste is recycled into non-woven insulation. The down and feathers that are too old to be recycled and our production waste is changed into organic fertilizer. But we are also collaborating with a Swiss company that changes our feathers waste into biodegradable plastics. Tomorrow, new technologies will bring even better solutions to change waste into value!
The circular economy has a big movement forward and greater attention in the last few years. How have you seen this in your business?
For sure there has been a fast evolution in the last few years. Back in 2015, circularity was a vague concept in the textile industry.
Sustainability actions were more focused on responsibly sourced materials or on social practices.
Today, making new garments from used ones is the main challenge.
What can you say about starting a business with circularity at its core? What have been the greatest challenges? Greatest successes?
It is better to start a business with a mission that is really trendy than to fight for something that gets nobody's interest!
But it is not enough to be successful. There are lots of challenges. Even lots of people like your idea and your product, it is very difficult to change to mindsets and habits. You need convictions and endurance.
One key of our success is that we did not try to be perfect from day 1. With sustainable projects, there is always room for improvement. Start somewhere and make it better day after day.
What are the next 5 years looking like for Re:down?
We have lots of projects in the pipeline! Improvements for our own waste management, for our supply chain organisation and for the quality of our products. And we are working on recycling other materials than down and feathers...
Where do you find inspiration for your collaborations and work?
My business partners and myself, we have been working in the textile business for almost 25 years and we know that market well. Having a global knowledge of our market helps us to see the gaps and to anticipate the trends.
But we also look around in other industries. It is very inspiring to see the changes in consumer habits from other markets.
This is a great example for us to learn more about other brands and businesses out there working within the circular economy - Are there any businesses you want to shout about?
Have a look at ARKET for your next fashion shopping. They use only Re:down for their down insulated garments and most of their materials are circular. Great look with a real ethical approach.
In another field, check out FLUIDSOLIDS. This is the Swiss company that changes organic waste into compostable plastic alternatives. Very innovative!
Thank you Eric!
---